Construction Science students are afforded several opportunities to compete against other schools every year in the form of Student Competitions. These competitions include everything ranging from 2 day projects for the ASC/TEXO Competition on up to semester long projects such as the NAHB and ABC Student Competitions. Competing gives students a chance to apply what they learn in the classroom to a real world project.
The three competitions Construction Science students competes in annually are:
Associated Schools of Construction (ASC) -The professional association for the development and advancement of construction education, where the sharing of ideas and knowledge inspires, guides and promotes excellence in curricula, teaching, research, and service. There are four different construction divisions, commercial, heavy civil, and design build.
Associated Builders and Contractors (ABC) - ABC's Construction Management National Competition (CMC) is a hallmark competition that promotes careers in construction management. The National Competition features teams of four (4) college and university students testing their project management, estimating, safety, quality control, and presentation skills.
National Association of Home Builders (NAHB) - The competition gives students the opportunity to apply skills learned in the classroom to a real construction company by completing a management project/proposal. Proposals are submitted to a group of construction company executives who act as judges. During the convention, students defend their proposals to the judges in front of an audience.
DPR Mini-Competition
March 31st, 2015 marked the date of Texas State University CSA's first mini-competition. Each team consisted of one Officer and two members (3 people per team), wth DPR presenting an overview of the problem for the first 15 minutes. Afterwards, the teams spent the next 45 minutes preparing a solution where each team gives a quick 1 minute "elevator speech" with their unique solution. In closing the competition, DPR judges determined the top three teams and awards were given accordingly.
Prizes included:
1st place- $20 Plucker's giftcards + Certifcates
2nd place- Punchlist T-shirts + Certificates
3rd place- Certificates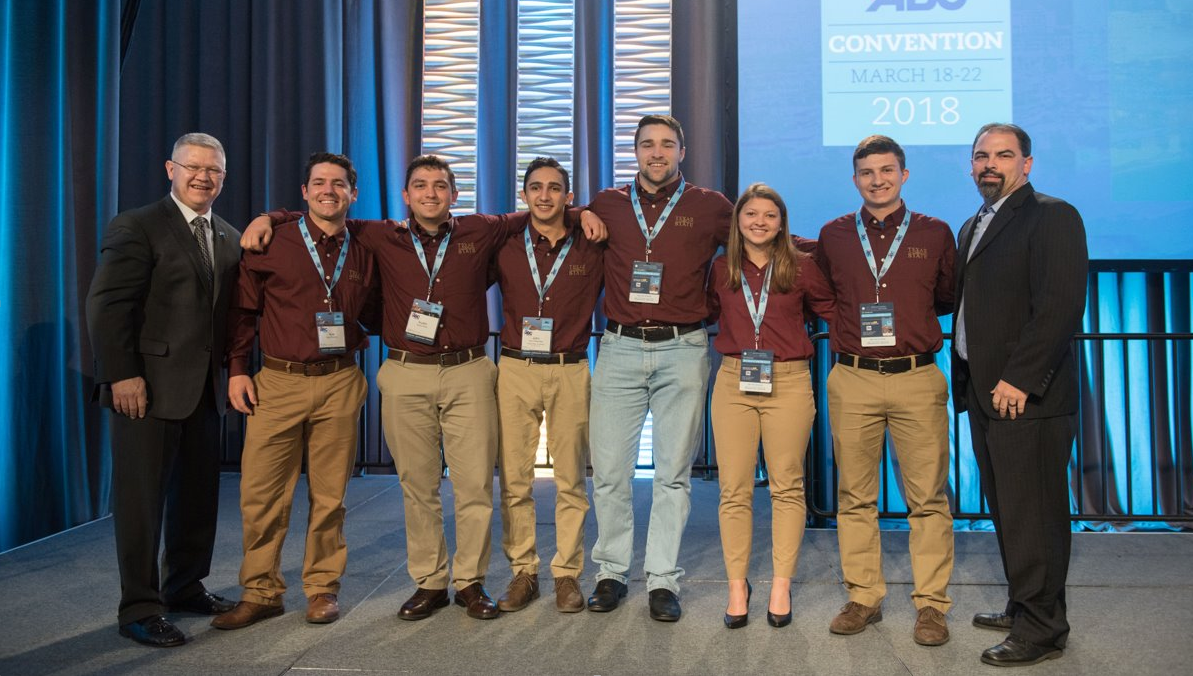 Achievements and Awards
ASC
2019 - 1st Place - Commercial
Best Presenter - John Resendez
Scholarship - Alejandra Ibarra
2018- 2nd Place - Design Build & Heavy Civil
2017 - 1st place- Heavy Civil
Best Presenters- John Resendez (Design Build) and Jacob Pierce (Heavy civil)
Scholarship- Keely Brack
2015 1st Place Commercial Building
2014 Best Presenter - James Holmes
2013 Best Presenter – Dustin Rowe
ABC CMC
2019 Student Chapter Of The Year
2019 2nd place in Project Management
2018 2nd Place in Safety
2014 3rd Place Overall & 3rd Place Estimating
NAHB – 2013 Rookie of the Year
If you are a student interested in competing, please contact any of our Officers.